Rescue, Restoration, Redemption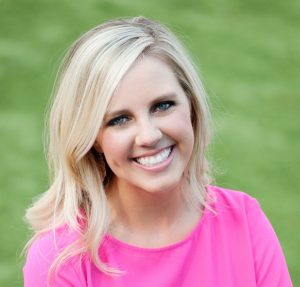 Since July 2017, Molly-Catherine Goodson has served as a North Carolina Assistant District Attorney in Forsyth County, prosecuting domestic violence and child abuse cases on a misdemeanor level. She pursues justice for those who have been affected by abuse and violence.
More than 20 years have passed since Goodson first sat in a courthouse and told her story. Her father, a pastor, was physically and verbally abusive. She has known what it feels like to need someone to believe her and advocate for her safety and flourishing.
Throughout a childhood lived in Georgia, Texas, and North Carolina, Winston-Salem first felt like home because her grandparents lived here. When her family eventually settled here, she knew she would like to stay. After attending Liberty University School of Law, she accepted a job in the DA's office.
Goodson acknowledges that she works as an advocate on the job and makes herself vulnerable through speaking and writing away from the job as a way of giving back and following a sense of call.
"Even when our lives were upside down, my mom took us to the battered women's shelter to donate toys and clothes.
Sharing my story is something I've done as long as I can remember," Goodson says. "What's exciting now is that I have a platform based on my career and education to share my story."
She fully considers it a call that God has placed on her life. In addition to her work professionally, Goodson writes, speaks, and otherwise advocates for victims of domestic violence.
She is excited to share her story with Associates supporters, and believes her message to have a natural fit with mental health care. "I believe hope and healing are found in Christ," she says. "Associates is unique in that they are able to lead people to ultimate healing."
In spite of Scripture that speaks to God's love for and protection of the powerless, Goodson believes the church often misses how to address domestic abuse.
"Pastors forget that the people sitting in their congregations are victims and perpetrators of domestic violence. People in church don't realize that people beside them are victims and perpetrators, too. Abusers don't appear evil to us because they are different in public than they are in a domestic relationship," she says.
Another idea that gets tangled up in "church people's" response is the desire to promote forgiveness and reconciliation but failing to weigh those with safety for those in a dangerous relationship or home.
"I think sometimes Christians can focus so much on forgiveness and reconciliation that consequences for actions go by the wayside," she says.
Goodson believes and has experienced pastors and others in spiritually authoritative roles as reluctant to take actions with permanent repercussions to those who've been accused of abuse—losing a job, losing a family, a reputation, the right to see children.
"What I seek is justice for victims of domestic violence," she says. "My work is to hold offenders accountable."
Her own journey contains three distinct and necessary parts: rescue, restoration, and redemption. Not one of those can be neglected in the path toward wholeness and healing.
Her journey contains pain, but beauty has come from the ashes. "What God has brought from it is beautiful, and so I can stand in the gap and fight for other vulnerable people."
Want to read more of Molly-Catherine Goodson's story? Click here https://www.aacc.net/2016/10/31/more-than-a-statistic/ to read a first-person account written by Goodson for the American Association of Christian Counselors during Domestic Violence Awareness Week several years ago.
We Were the Least of These: Reading the Bible with Survivors of Sexual Abuse by Elaine Heath
"This accessibly written book provides a much needed perspective, illuminating the good news of healing and liberation that the Bible offers survivors of sexual abuse. It will be welcome reading for those who have suffered from abuse as well as for pastors, counselors, therapists, and others who minister to them."
Black and White Bible, Black and Blue Wife
by Ruth Tucker
"Ruth Tucker recounts a harrowing story of abuse at the hands of her husband, a well-educated, charming preacher no less, in hope that her story would help other women caught in a cycle of domestic violence and offer a balanced biblical approach to counter such abuse for pastors and counselors."
Violence Among Us: Ministry to Families in Crisis
by Brenda Branson and Paula J. Silva
This book offers practical help in identifying abusive situations. It has strategic counseling tips, case studies and models of effective ministry to both the victim and the perpetrator. There are resource lists which include domestic violence hotlines and shelters, faith-based organizations, abuser treatment programs, and information on legal and safety issues.