Dear Friends,
As we quickly pick up momentum in this year, I have stopped to consider the possibilities that each of us has in front of us. It is important to get a '30,000' foot view from time to time to see where we are, where we have been, and where we are heading.
While we cannot predict the future, we have the blessing of knowing that God does hold the future and 'works for the good of those who love him, who have been called according to his purpose' (Romans 8:28).
As the tyranny of the urgent threatens to encroach on life and as long lists begin to overwhelm, I want to encourage each of us to make space to look for God's leading and rest in his grace and love.
Blessings,
Heath Greene
Executive Director
Save the Date! Annual Associates' Banquet
Tuesday, April 19, 2016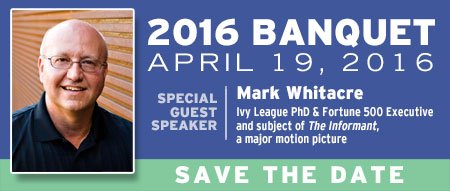 The speaker will be Mark Whitacre, an Ivy League Ph.D. and the highest-ranked executive of any Fortune 500 company to become a whistleblower in US history. Mark worked with the FBI to uncover a price-fixing scandal in the 1990s, and is now a Marketplace Ambassador for CBMC (Christian Business Men's Committee).
The scandal and his work as an undercover whistleblower was the inspiration for the major motion picture, "The Informant," starring Matt Damon as Mark Whitacre.
Mark's personal faith and his life since will give insight into God's redeeming work in brokenness, and be a blessing to Associates' family and friends.
This will be Associates' second year holding its annual event at the downtown Millennium Center, a local and national landmark. As a former federal building around 100 years old, it once housed a United States post office, other federal offices, and military organizations.
For information about individual or corporate sponsorships, contact us at info@christiancounseling.org or 336-896-0065.
The Allure of Gentleness: Defending the Faith in the Manner of Jesus
Dallas Willard (HarperOne)
The book is one to read and digest. It distills the thinking of the late Christian philosopher and provides both a spiritual and apologetic feast at once.
Still Life
Christa Parrish (Thomas Nelson)
This novel explores the complicated world of Ada, a young woman recently rescued from a fundamentalist cult. Ada is trying to build a life in the outside world when her world is rocked a second time by the sudden death of her new husband in a plane crash. She eventually meets Katherine, the woman who gave up her seat to Ada's husband. Both characters are searching for community and connection in the midst of mourning.